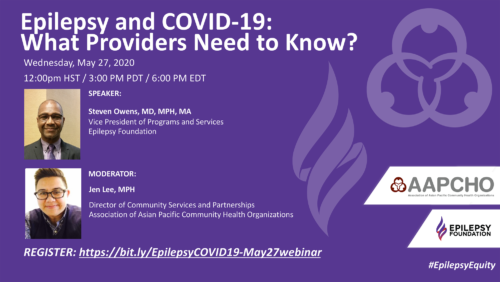 Epilepsy and COVID-19: What Providers Need to Know?
May 27, 2020
12:00 p.m. HT / 3:00 p.m. PT / 6:00 p.m. ET
Description:
In observance of Asian and Pacific American Heritage Month, the Association of Asian Pacific Community Health Organizations (AAPCHO) has partnered with the Epilepsy Foundation to increase awareness about epilepsy and to share timely resources with health centers and other organizations to support people living with epilepsy, including within Asian American, Native Hawaiian and Pacific Islander communities.
Learning Objectives:
After watching this webinar, participants will:
Have an increased awareness about epilepsy basics and disparities,
Get an overview of seizure First Aid,
Have an understanding of epilepsy in the context of the COVID-19 pandemic,
Learn about epilepsy self-management programs, and
Find out more about epilepsy provider training opportunities.
Moderator:
Jen Lee, MPH, Director of Community Services and Partnerships, AAPCHO
Speaker:
Dr. Steve Owens, MPH, MA, Vice President of Programs & Services, Epilepsy Foundation
Intended Audience:
Health centers and other organizations that serve Asian American, Native Hawaiian and Pacific Islander communities.
Fees:
There is no fee for this webinar. This webinar is supported by AAPCHO and the Epilepsy Foundation.
A confirmation email will information on how to join the webinar will be sent to you after you register. 
If you have trouble accessing the registration link, visit https://zoom.us/webinar/register/WN_kVHtFh6rSUOzGqzBaOuuWg.
Media Relations
Beverly Quintana
(510) 272-9536 x112
bquintana[at]aapcho[dot]org
Kristine Cecile Alarcon
(510) 671-5054
kalarcon[at]aapcho[dot]org