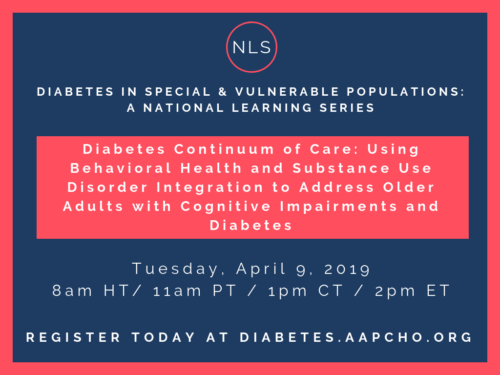 Diabetes Continuum of Care: Using Behavioral Health and Substance Use Disorder Integration to Address Older Adults with Cognitive Impairments and Diabetes
April 9 , 2019
8am - 9:30am HT / 11am-12:30pm PT / 1pm-2:30pm CT / 2pm-3:30pm ET
Diabetes affects more than 30 million people in the United States. Multi-tiered efforts to prevent, treat and manage diabetes are critical in reducing the burden of diabetes, particularly for medically underserved racial and ethnic minority populations. In addition to higher prevalence, ethnic and racial minority patients with diabetes have higher mortality and higher rates of diabetic complications.
To combat and continue the national conversation around diabetes, 13 National Cooperative Agreement (NCA) organizations have partnered to create a four-part national learning webinar series to engage health centers, Primary Care Associations (PCAs), and Health Center Controlled Networks (HCCNs) to increase foundation knowledge of effective strategies to prevent, treat, and manage diabetes among special and vulnerable Health Center Program patients.
This is the second webinar in the continuation of our Diabetes in Special & Vulnerable Populations: A National Learning Series.
More information soon
NCA Collaborating Partners:
Fenway Health
Harvard ECE
NCHPH
Media Relations
Beverly Quintana
(510) 272-9536 x112
bquintana[at]aapcho[dot]org
Kristine Cecile Alarcon
(510) 671-5054
kalarcon[at]aapcho[dot]org