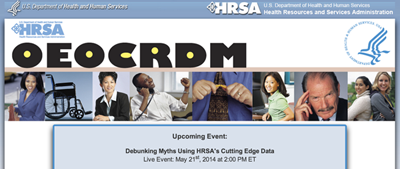 Debunking the 'Model Minority' Myth: Using Cutting Edge Data
May 21, 2014
At 2:00-3:00 pm EDT
To join the event, click: http://services.choruscall.com/links/oeo2011/index.html
In observance of
Asian American Pacific Islander (AAPI) Heritage Month
Health Resources and Services Administration's
Office of Equal Opportunity, Civil Rights and Diversity Management
and the
Asian American Pacific Islander Employee Resource Group
Invite you to the
"Debunking the 'Model Minority' Myth:
Using Cutting Edge Data Webcast"
Wednesday, May 21
from 2:00 p.m.-3:00 p.m.
Benefits to Participating
This webcast will feature three panel discussions with HRSA staff and grantees.  Panelists will share with you data facts and highlight culturally appropriate services for AAPIs to address racial and ethnic barriers and promote better health outcomes.
Panel discussions will share:
Why the 'Model Minority' is a myth,
The Value of Disaggregated Data in Funded Programs, and
How HRSA is delivering culturally appropriate services to its grantees and beneficiaries.
And more…
Subject Matter Experts
Moderator: Dr. Rupali Doshi, Medical Officer, HAB
Panel Participants:
Dr. Michael Lu, Associate Administrator, MCHB
Dr. Alek Sripipatana, Chief, Data Branch, BHPC
Jeffrey Caballero, Executive Director, AAPCHO
Tanya Cepero-Chapman, Public Health Analyst, BPHC
Sharlene Chun-Lum, Executive Director, Papa Ola Lokahi
To join the event, click: http://services.choruscall.com/links/oeo2011/index.html
For reasonable accommodations, contact OEOCRDM's RA Coordinator @301-443-5636 or via e-mail: RA-Request@hrsa.gov