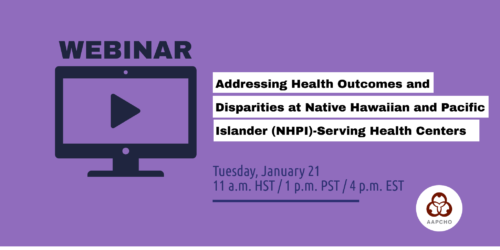 Addressing Health Outcomes and Disparities at Native Hawaiian and Pacific Islander (NHPI)-Serving Health Centers
January 21, 2020
11:00 a.m. HST / 1:00 p.m. PST / 3:00 p.m. CST / 4:00 p.m. EST
During this live webinar, participants learned about the role of health centers in improving health outcomes for medically underserved Native Hawaiians and Pacific Islanders. Presenters will share key findings from AAPCHO's updated and annual report entitled, "Analysis of Native Hawaiian and Pacific Islander Health Outcomes and Disparities at Health Centers: UDS 2018".
Learning Objectives:
To report on the 2018 Uniform Data System (UDS) analysis highlighting the impact of chronic disease outcomes for Native Hawaiian and Pacific Islander populations within health centers.
To explore key differences between Native Hawaiian and Pacific Islander-serving health centers to other health centers across the continental U.S., Hawaii, and the Pacific region.
To discuss the implications of key findings and opportunities to use the data for developing clinical and non-clinical interventions.
Intended Audience:
Health center staff from clinical and non-clinical perspectives and from all levels of leadership. Primary Care Associations (PCA) and Health Center Controlled Networks (HCCN) partners working to support health center members that serve Native Hawaiian and Pacific Islander populations.
Media Relations
Beverly Quintana
(510) 272-9536 x112
bquintana[at]aapcho[dot]org
Kristine Cecile Alarcon
(510) 671-5054
kalarcon[at]aapcho[dot]org