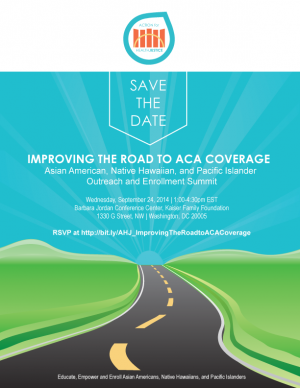 Improving the Road to ACA Coverage: Asian American, Native Hawaiian, and Pacific Islander Outreach and Enrollment Summit
September 24, 2014
Barbara Jordan Conference Center, Kaiser Family Foundation, 1330 G Street, NW, Washington, DC 20005
RSVP: http://bit.ly/AHJ_ImprovingTheRoadtoACACoverage
At this summit, attendees will learn about Action for Health Justice (AHJ), a national network of organizations established to help Asian Americans, Native Hawaiians, and Pacific Islanders enroll in health insurance coverage options under the Affordable Care Act. Representatives will describe outreach, education, and enrollment activities and share best practices and lessons learned from a new report being released on the day of the Summit. For more information about AHJ, click here.
AGENDA
Wednesday, September 24, 2014, 1:00 PM EDT – 4:30 PM EDT
1:15 – 1:30 PM
Keynote Address
1:30 – 2:30 PM
Action for Health Justice (AHJ) National Panel Representatives of the four AHJ national organizations will provide an overview of AHJ, outline enrollment barriers, and present recommendations from the AHJ advocacy brief.
2:30 – 2:45 PM
Break
2:45 – 4:00 PM
Lessons Learned and Best Practices Panel Representative of community-based organizations and community health centers will share local and state perspectives on outreach, education, and enrollment lessons learned, best practices, and strategies for the next open enrollment period.
4:00 – 4:30 PM
Policy Discussion Lisa Campbell, Center for Consumer Information and Insurance Oversight, Centers for Medicare & Medicaid Services (CMS)