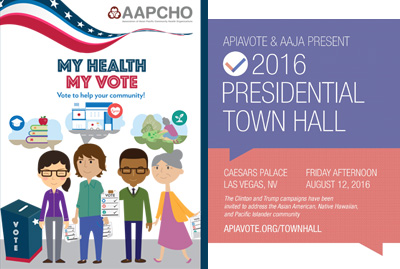 AAPCHO My Health My Vote Press Conference at Presidential Election Forum in Las Vegas
August 12, 2016
Caesars Palace Las Vegas - Promenade Level, Neopolitan IV, 3570 S Las Vegas Blvd Las Vegas, NV 89109
On Friday, August 12, Asian American elected officials will join health center leaders from across the country at the Association of Asian Pacific Community Health Organizations (AAPCHO) My Health, My Vote press conference, preceding the Presidential Election Forum in Las Vegas. Members of Congress will deliver remarks on the importance of voter outreach and education for Asian American, Native Hawaiian, and Pacific Islander (AA&NHPI) communities, and the critical role health centers play in reaching this diverse and rapidly growing population.
Health center leaders will also speak on the work they have been doing on the ground to register thousands of eligible AA&NHPI voters as part of AAPCHO's My Health, My Vote campaign—a nationwide, nonpartisan and multilingual voter registration campaign aimed at mobilizing AA&NHPIs and other underserved populations served at health centers. Health center leaders and frontline staff will be available to share patient and community member stories.
WHO:
Rep. Judy Chu (D-Calif.) – invited
Rep. Mike Honda (D-Calif.) – invited
Sherry Hirota, CEO, Asian Health Services and Board Chair, AAPCHO
Isha Weerasinghe, Director of Policy and Advocacy, AAPCHO
Michael Byun, Executive Director, Asian Services in Action
Anna Xing, Program Coordinator, Charles B. Wang Community Health Center
Emily Park, Community Health Specialist, Asian Health Services
Additional speakers will be announced.
WHAT:
My Health, My Vote press conference with Asian American elected officials and health center leaders, followed by brief reception with light refreshments.
WHEN: 10:00-11:30am PDT, Friday, August 12, 2016
WHERE:
Caesars Palace Las Vegas
Promenade Level, Neopolitan IV
3570 S Las Vegas Blvd Las Vegas, NV 89109
This event is open to the public and light refreshments will be provided. Interview and photo opportunities will be available. Media wishing to attend should RSVP to bquintana@aapcho.org to receive additional details.
###
Media Relations
Beverly Quintana
(510) 272-9536 x112
bquintana[at]aapcho[dot]org
Kristine Cecile Alarcon
(510) 671-5054
kalarcon[at]aapcho[dot]org