COVID-19 Resources
Last Updated: 1/8/2021
AAPCHO is continuously monitoring novel Coronavirus disease 2019 (COVID-19) alerts and information from the Centers for Disease Control and Prevention (CDC), Health Resources and Services Administration (HRSA), Centers for Medicare & Medicaid Services (CMS), and other health agencies across the United States and its territories.
This page will be updated frequently with tailored resources for community health centers, multilingual and culturally appropriate materials for Asian American (AA), Native Hawaiian (NH), and Pacific Islander (PI) communities, resources to address stigma related to COVID-19, public health considerations, webinar opportunities, and policy updates. This page covers the following areas: 
If you have questions, would you like to contribute resources to this page, and/or require technical assistance, please email preparedness@aapcho.org.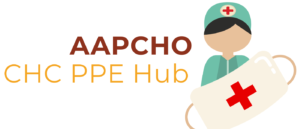 AAPCHO is working to get personal protective equipment (PPE) to our member health centers providing care to some of the most vulnerable populations disproportionately at risk. Items like gowns, gloves and masks are essential in treating COVID-19. Our team is coordinating with AAPCHO member health centers who need supplies, and with equipment donors who can help meet this need. Fill out the form today!

AAPCHO encourages all health centers to visit the Health Center Resource Clearinghouse to access compiled resources on COVID-19 from 20 NationalCooperative Agreement organizations and partners. 

Highlighted Resources for Health Centers

Federal Resources for Health Centers
Emergency Preparedness and Recovery Resources for Health Centers

– The Health Resources and Services Administration (HRSA) is working to keep health centers and Health Center Program partners updated on the latest information regarding COVID-19. All COVID-19 information for health centers will appear on this page and resources will be updated as they become available.

Health Center Survey Data for COVID-19

:  Each health center will receive an electronic, easy-to-use survey twice a week via email, on Monday and Thursday afternoons. HRSA will use the information collected to assess health centers' needs throughout the COVID-19 response.

Financial Support
Workforce Support
Sample Protocols for Health Centers
Personal Protective Equipment (PPE) Guidance for Health Centers
Additional Resources
Immigrant-Serving Organizations' Perspectives on the COVID-19 Crisis – The Urban Institute and Protecting Immigrant Families, Advancing Our Future campaign created a brief to share the perspectives of immigrant-serving organizations on the effects on immigrant communities while providing recommendations for federal, state, and local responses.

COVID-19 Uninsured Program Portal

(launched April 27, 2020) –

As part of the FFCRA and CARES Act, the U.S. Department of Health and Human Services (HHS), will provide claims reimbursement to health care providers generally at Medicare rates for testing uninsured individuals for COVID-19 and treating uninsured individuals with a COVID-19 diagnosis.

Clinician Outreach and Communication Activity (COCA)

– CDC's COCA prepares clinicians to respond to emerging health threats and public health emergencies by communicating relevant, timely information related to disease outbreaks, disasters, terrorism events, and other health alerts.

FAQs for Health Care Providers for Medicare Payment

– The Centers for Medicare & Medicaid Services released FAQs on Medicare payment for laboratory tests and other services related to COVID-19.
AAPCHO recognizes that navigating information on the COVID-19 Vaccine is essential for Community Health Centers. The role of Community Health Centers in the deployment of vaccines is essential at numerous levels.
From the Centers of Disease Control and Prevention (CDC):
Knowledge and Data to Prepare for the Vaccine:
Perspectives to Consider

AAPCHO is proud to partner and is part of the Pacific Islander COVID-19 Response Team and the Asian American Pacific Islander Emergency Response Network to provide culturally competent and in-language resources and materials for those disproportionately impacted by COVID-19.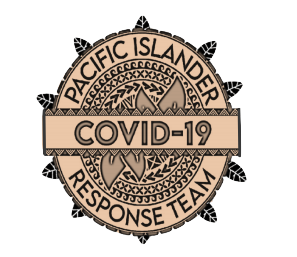 The Pacific Islander COVID-19 Response Team is a national group of Native Hawaiian and Pacific Islander (NHPI) researchers, health experts, community leaders and advocates who have come together to inform and support families and communities about COVID-19. Resources available here »
NHPI COVID-19 Toolkit

– In partnership with the Southern California Pacific Islander COVID-19 Response Team, the Los Angeles County Chief Executive Office has released the Native Hawaiian Pacific Islander COVID-19 Community Toolkit, a rich resource that includes infographics and public service announcements (PSAs) in Chamorro, Hawaiian, Marshallese, Samoan, and Tongan languages.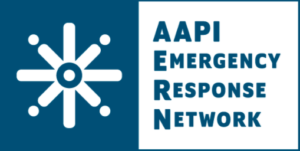 The Asian American and Pacific Islander Emergency Response Network (ERN) is a collaboration among the National Council of Asian Pacific Americans and other non-profit groups with the goal of laying the foundation for a more unified AA and NHPI movement. Find more information »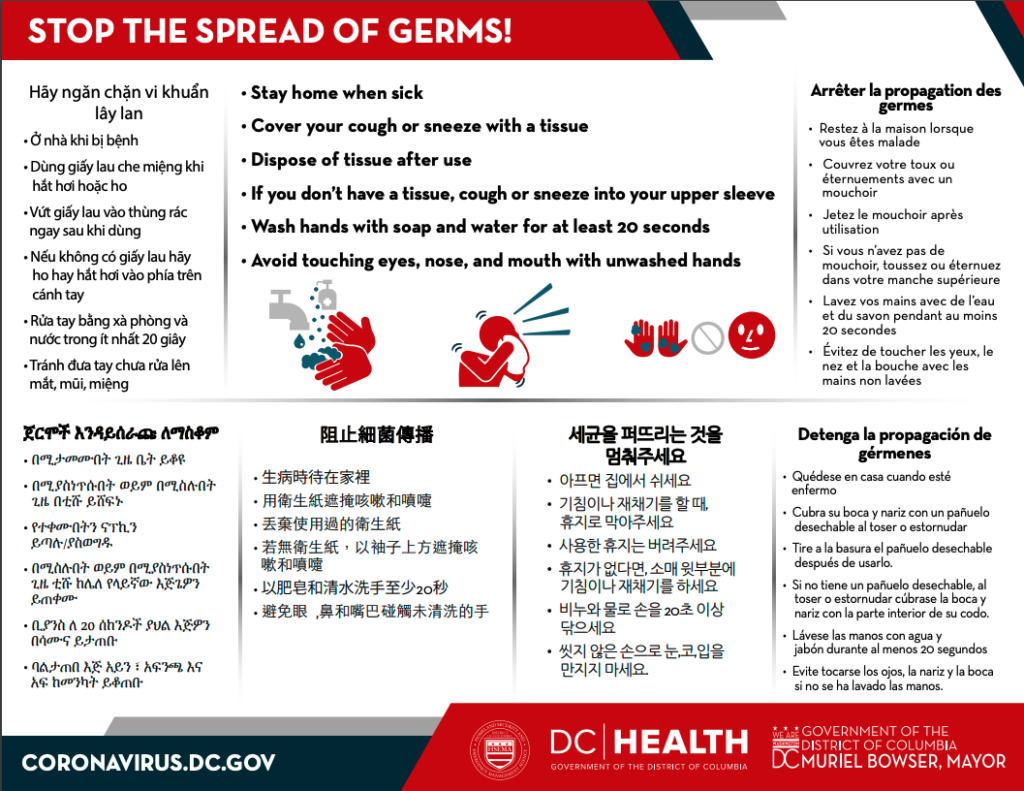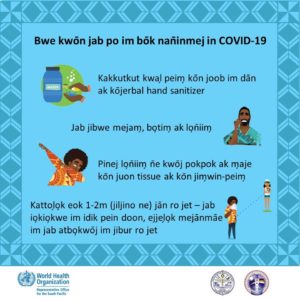 AAPCHO acknowledges the increasing levels of stigma, racism, and xenophobia toward AA and NHPI communities as a result of the COVID-19 outbreak. We encourage community health center providers, community-based organizations, educators, and the general public to combat this stigma by addressing misinformation and practicing cultural humility.
Reporting Incidents of Hate
Stand Against Hatred

– Asian Americans Advancing Justice is documenting hate incidents from across the United States to better educate the public and to empower and advocate for those affected by hate crimes.
AAPI Hate Crimes – OCA Asian Pacific American Advocates is documenting any hate incidents motivated by bias against race or ethnicity, national origin, religion, gender identity, sexuality, or disability.
Stop AAPI Hate Incident Report Forms – In-language incident report forms in English, Chinese (Traditional and Simplified), Korean, Thai, Japanese, Vietnamese, Khmer, Punjabi, Tagalog, and Hmong from Asian Pacific Policy & Planning Council.

Report Instances of Hate-Related Incidents

– The Center of Public Integrity is investigating COVID-19-related hate incidents. Like the other reporting sites, information will not be published without your consent.
#WashTheHate Campaign – Join the social media campaign, created by Asian Pacific Policy & Planning Council and OCA Asian Pacific American Advocates, to raise awareness of discrimination and violence against the Asian Pacific American community.
Toolkits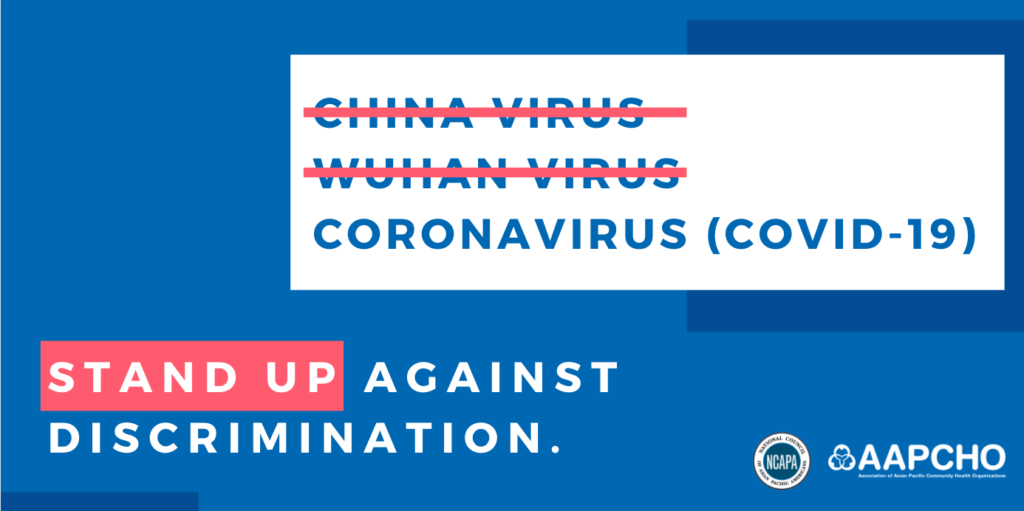 Cultural humility is a respectful approach toward individuals of other cultures that continuously pushes one to challenge cultural biases (CHCS, 2017).


Upcoming Webinars and Resources – The Health Center Resource Clearinghouse developed this page with COVID-19 webinar opportunities and resources tailored for health centers.
COVID-19 Vaccine Webinar for Community Based Organizations – The

CDC Foundation provided vaccine information, local challenges, and distribution plans.

Providing Safe Care to COVID-19 Patients in Various Settings

– This recorded webinar and Q&A session by the American Hospital Association Center for Health Innovation, through CDC's Project Firstline, provides current insight on safe care practices for healthcare workers including outpatient centers (November 20, 2020).

Conversations on COVID-19: Impacts on Communities of Color – The National Academies of Sciences, Engineering and Medicine shared conversations with experts to discuss the latest in information and research on health equity.

COVID-19 Info Session

– This recorded webinar from

NYU Langone Health

and

Center for the Study of Asian American Health

features Eda Chao, MD, Assistant

Chief

of Pediatrics of

Charles B. Wang Community Health Center

. Dr. Chao provided a COVID-19 information session in Mandarin. Slides are also available in

Chinese

and English (April 24, 2020).
19 Ways to Survive the Pandemic – The American Dental Association highlights what you can do during the COVID-19 pandemic. Also be sure to check out other COVID-19 digital events and trainings from them (March 26, 2020).
The Impact of COVID-19 on the LGBTQ+ Community – Check out the free and on-demand webinar from the National Coalition for LGBT Health (March 26, 2020).

Prepare Not Panic: COVID-19 Update and the Health Center Response

– The National Association of Community Health Centers (NACHC) hosted this webinar in collaboration with the CDC Coronavirus Response Task Force. The

recording

and

slides

are now available (March 6, 2020). See also Asian Health Service's feature. 

Coronavirus (COVID-19) Preparedness and Response for Primary Care Providers

– The National Nurse-led Care Consortium and CDC's recorded webinar to inform primary care associations, community health centers, and other outpatient settings providers on the latest information on Coronavirus (February 20, 2020).


Testimonies and Press Conferences
Community Health Centers 
Find previous updates here.